Factsheet
Developer:
Imperium42 (í42), USA+Taiwan
Founding Date:
January 1, 2016
Websites:
Releases:
Description
Imperium42® LLC, or í42® for short, is an independent software and game Studio with a worldly team founded by Dylan Hunt (USA) and Elsa Hunt (Taiwan). í42 is known for their flagship title, Throne of Lies: Medieval Politics, an online PvP (social deduction) game on Steam. The studio communicates remotely through Discord.
Imperium is Latin for Empire, or Absolute Power, with the belief that gamers have the power to create empires of virtual worlds. í42 takes great stride in participating live with both fans and contributing back to the indie community.
Why 42? 42 is the answer to life, the universe, and everything! Gaming is the answer to freedom, creativity, storytelling and concious dreaming.
Timeline
2016
Imperium42 started out as a "husband-and-wife" team - Dylan, the developer - and Elsa, business development. The decision to expand was in the early-stages of their flagship title, Throne of Lies, as a response to speed up development. While planning for a Kickstarter, Imperium42 posted their idea on Greenlight Concepts to see how the community would react: The result was very positive with 99% "thumbs up", even after hundreds of votes remaining over the course of several months.
2017
In 2017, Throne of Lies was successfully funded on Kickstarter and went into closed beta testing on Steam after being Greenlit within 15 days of posting.

Throne launched September 29th, 2017 (9AM PST) on Steam with nearly 1,000 consecutive players (CCU) during the launch event.
2018
At the end of February, 2018, Imperium42 sold ~50,000 copies of the game and considered Throne a great success as their first flagship game!

The dev team publicly announced 2018's roadmap to include a revamped UI, overall polishing of quality-of-life features, implementing statistics and more.
2019
After successfully fulfilling our roadmap promises, the dev team further added game balance and content, nearing a 50% balanced win-rate for good vs evil factions.
At this point, Throne has generated ~$500k in revenue.
2020
Throne of Lies was acquired by PT.farm in November, taking the game F2P (Free-to-Play) Dec 22 and hiring Imperium42 (Dylan) back to continue updates for a period of 18 months under the direction of PT.farm.
2021
To be updated - still carrying on! See LinkedIn.
2022
To be updated - still carrying on! See LinkedIn.
2023
To be updated - still carrying on! See LinkedIn.
Images
Featured Screenshots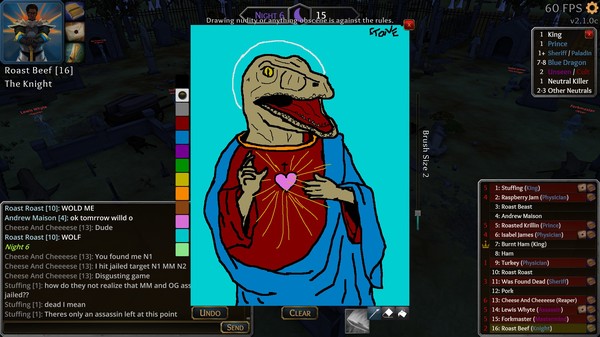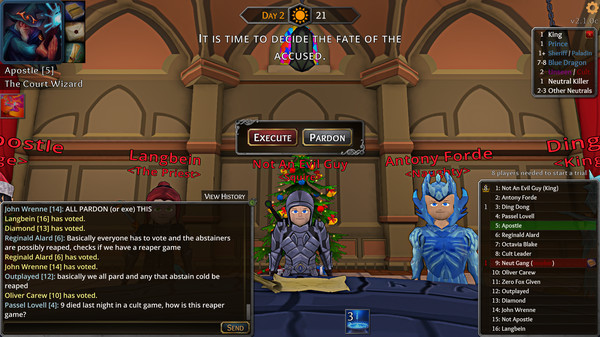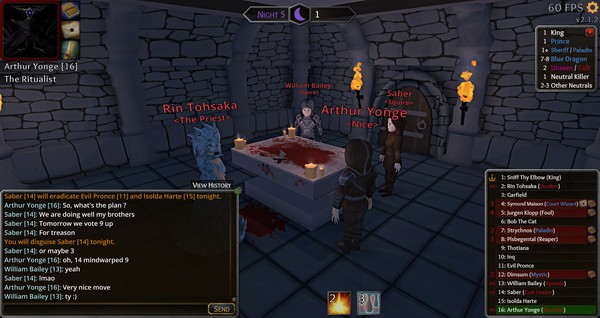 See more screenshots, cutouts, illustrations & promo art on Throne's press kit
License
We want to offer as many assets as possible to our content creators and media friends, so alas, this license section (the "Licensing").
Any and all "Content Creators" (Twitch, YouTube, bloggers, media/news sites, etc.) have permission to use and monetize any content on this PressKit page, in good faith, in order to promote their own content directly relevant to Throne of Lies in the form of a limited, revokable license (the "Permission").
Exceptions:

You must only use our assets if presenting the game in a "positive" light. You may certainly present your opinions otherwise: just not with our assets :)
Unless you were specifically told you can't (or you are currently banned from the game/community), you have Permission.
If you run a fan site/event, please emphasize the term "Unofficial".
If you are not a "Content Creator", Licensing is not permitted to those monetizing from this PressKit (online store, tshirts, etc) or for use within another game without a partnership agreement.